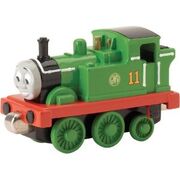 Oliver is a Great Western Engine, like Duck. He worked on the great western railway with his brakevan Toad until the decline of steam. Oliver was sent away to be scrapped, but he ran. He eventually ran out of coal and was found by diesels and sent back. All hope seemed lost until Douglas came one night and rescued him. Oliver was sent to work on The Little Western Branchline with Duck. At first, Oliver was very arrogant and the trucks pushed him into a turntable well. Oliver then became wise and cautious. He tought the trucks a lesson when he pulled S.C.Ruffey apart. Later, Oliver got bored of working so the Fat Controller sent him to take the mail run for a while. But on his first run, he went down the wrong line and crashed into an abondoned shed at an abondonded station. Oliver still works the branchline and not much is heard of him nowadays apart from crashing into a snowman.
Take Along Model
Edit
Oliver was released in 2002. Apart from being a little short for his size, he is pretty acurrate. He was discontinued in 2009. Oliver will likely be released as a Take n Play model in the future.
Oliver is a GWR 14xx 0-4-2T.
Appearances
Edit
Oliver appeard in "Enterprising Engines" and "Oliver the Western Engine" and made many cameos in the RWS. In the TV Series, he appeared in Seasons 4-7 and 12. 
"Oliver's no use at all. Thinks he's very clever. Says that he can manage us. Thats the best joke ever! When he orders us about, with the greatest folly, we just push him down the well! Pop goes old Ollie". Oliver the Western Engine
"Hmm, getting lost can be interesting, but being found is much nicer. Especially if it makes an engine feel really useful". Oliver's Find
Other Merchandise
Edit
ERTL (discontinued)
Wooden Railway (rereleased in 2006, discontinued)
Trackmaster
My First Thomas
Hornby (discontinued)
My Thomas Story Library) discontinued
Brio (discontinued)
Bandai Tecs
Di Agostini
Wind up (Japan Only)