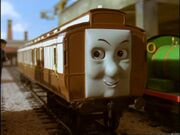 Old Slow Coach is an old GWR Victorian coach. She was about to be scrapped, but Thomas and Percy saved her and she became a temporary shelter for the workmen after their hut burnt down. Percy also used her in a good luck package.
Take n Play
Edit
Old Slow Coach hasn't been released as a Take Along or Take n Play model. It's unlikley she will be unless she makes another appearance in the future.
Old Slow Coach is a Falmouth Coupe TRI Composite Coach.
Appearances
Edit
She only appeard in the Season 5 episodes "Thomas, Percy, and Old Slowcoach" and "Happy Ever After".
"They called me Old Slow Coach and told me I wasn't useful anymore. Now, only the mice ride in me." Thomas, Percy, and Old Slow Coach
"I'm what it!". Happy Ever After
Other Merchandise
Edit
ERTL (discontinued)
Wooden Railway (discontinued)
Tomy (Asia Only)
Hornby