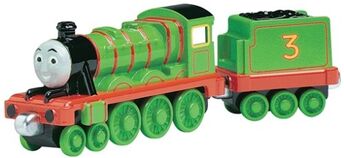 Henry is a green engine who came as a spare for Gordon and Edward. He is well known for his incident in the tunnel. Henry didn't want his paint to be spoiled so he hid in a tunnel. The passengers tried to pull him out without success. So The Fat Controller bricked him up. But after Gordon broke down, he pulled the express. Then, he had to use special coal. It made him run very well. But he crashed while taking the flying kipper and got a new shape. He is a kind engine, but sometimes teases engines with Gordon. He is also sometimes scared, like when he had to take a train to the station and got spooked by a station light. He is the 4th largest engine on Sodor, after Gordon, Hiro, and Murdoch.
Take Along and Take n Play Models
Edit
Henry was released in 2002 with all the other season 1-5 engines. His model's boiler is to small for his size and his neck holds are black, when the are supposed to be green. Like all the other engines, he was rereleased as a Take n Play model in 2010. But he had very little modifications.
Henry was not based on a real engine when he had is old shape. His new shape is based on a Stanier Black 5 with a shorter smokebox.
Appearances
Edit
Specials:
"Once an engine attached to a train was afraid of a few drops of rain. It went into a tunnel, squeaked through its funnel, and wouldn't come out again". The Three Railway Engines
"I suffer dreadfully and no one cares". Henry the Green Engine
"Despicable" Henry's catch phrase when he, Gordon, and James are annoyed.
"Be careful Henry. You're not pulling the Flying Kipper. Mind you keep on the rails today". Gordon the Big Engine
Other Merchandise
Edit
ERTL (discontinued)
Wooden Railway(reissued in 2002, 60th anniversary edition, First Engineers Edition)
Tomy/ Trackmaster
Hornby
Bachman
Pez
Wind Up
My First Thomas
My Thomas Library
Brio (discontinued)