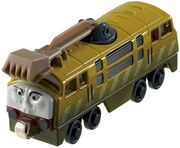 Diesel 10 is the main villan in Thomas and the Magic Railroad. He chased Thomas and Lady until he fell off the viaduct. Then, he helped the engines build the airport. Diesel 10 returned and used Percy to take over the steamworks, but was punished and Thomas helped rebuild the dieselworks after a fire.
Take Along and Take n Play Models
Edit
Diesel 10 was released in 2002 and released in 2010. His model is short for his size and his face is to thin and young. His claw, Pinchy, can move, but cannot open.
Appearances
Edit
Diesel 10 has appeared in every special except Hero of the Rails and Blue Mountain Mystery. In Misty Island Rescue, he appeared at the end of the credits.
Diesel 10 is based on a BR Class 42 (without Pinchy, of course).
"Get out of my way! I have unfinished here business and I wanna finnish it fast!" Thomas and the Magic Railroad
"Pinchy's hungry!". "Oh get back!". Thomas and the Magic Railroad
"I always mean what I do". Thomas and he Magic Railroad
"Aha! It's the blue puffball! And look who he's with! Splodge, come and destroy!". Thomas and the Magic Railroad
"You'll be laughing on the other side of you're boilers soon, silly steamies!". Misty Island Rescue
Other Merchandise
Edit
ERTL (discontinued)
Wooden Railway
Brio (discontinued)
Bandai Tecs
Di Agostini
Tomy Trackmaster
Wind Up
Mega Blocks
Diesel 10 was supposed to be released as a Hornby model, but never was.