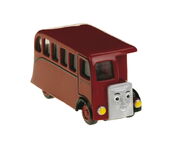 Bertie is a friendly red bus who works next to Thomas's branchline. When Thomas got stuck in the snow, Bertie rescued his passengers. Thomas and Bertie then met again at Berties shed. Bertie teased Thomas about the incident and claimed he could go faster than him. Thomas disagreed, so they had a race. Bertie drew in front but lost the race after Thomas reached his full speed. Later, when Thomas's driver didn't show up at work, Bertie took Thomas's passengers to Wellsworth but Edward had already left without them. Bertie chased after Edward and eventually caught up with him at Hackebeck. Then, he provided transport when Thomas's branch line was under repair. Bertie often teased Trevor until he rescued him from mud at the Vicar's Garden Party. Bertie had little contact with engines after that until he and Thomas had another race. Bertie likes his roads, but once was put on a flatbed so Thomas could get him quickly to Dowager Hatt. 
Take Along/ Take n Play Model
Edit
Bertie was released as a Take Along model in 2002 and as a Take n Play model in 2010. Apart from his red paint being too dark, he is pretty acurrate. 
Bertie is an AEG Regal T Class bus
Appearances
Edit
In the RWS, Bertie appeared in Tank Engine Thomas Again, Edward the Blue Engine, More About Thomas the Tank Engine, and Thomas and his Friends. In the TV Series Bertie appeared in all seasons but did not speak in Seasons 4, 13, and 14. He also appeared in Thomas and the Magic Railroad and made a none-speaking role in The Great Discovery plus a cameo in Misty Island Rescue.
"'You can't!"' said Bertie. 'I can!' huffed Thomas. 'I'll race you' said Bertie". Tank Engine Thomas Again
"Well Done Thomas! That was fun, but to beat you over that hill, I'd have to grow wings and be an aeroplane." Tank Engine Thomas Again
"Excitement is surprising. You never know when it'll happen. Otherwise, it wouldn't be exciting. Tootlepeep!" A Surprise for Percy
Other Merchandise
Edit
ERTL (discontinued)
Wooden Railway (reissued in 2003)
Trackmaster
Hornby (discontinued)
Bachmann
Brio (discontinued)
My Thomas Story Library (discontinued)
My First Thomas
Bandai Tecs
Tomica
Di Agostini'
Mega Bloks
Wind Up
Diablock